ER Collet Ultra High Precision 0.005mm / 5u run-out. These are not your blue/yellow boxed collets that are the cheapest of cheapest of collets that do not specify a precision value. A high precision collet allows for quieter machining, longer tool life and greater cut accuracy.
Available in ER11, ER16, ER20 and ER25 in common sizes 3.175mm (1/8"), 4mm, 6mm, 6.35mm (1/4"), 8mm, 10mm and 12.7mm (appropriate to ER size). Clamping range is that of nominal inner diameter size -1mm (eg. 6mm would accept 5mm to 6mm).
How to check what diameter you have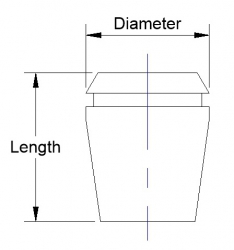 | ER Collet | Length | Diameter | Range |
| --- | --- | --- | --- |
| ER-11 | 18 mm | 11.5 mm | 0.5—7 mm |
| ER-16 | 27.5 mm | 17 mm | 0.5—9 mm |
| ER-20 | 31.5 mm | 21 mm | 1—13 mm |
| ER-25 | 34 mm | 26 mm | 1—16 mm |
| ER-32 | 40 mm | 33 mm | 1—21 mm |
| ER-40 | 46 mm | 41 mm | 3—26 mm |
Excellent concentricity Use them for thread milling Trust Adams stuff AAA +++

These are great. All products I've gotten from Adam's Bits are quality, and always in the mail on the same day.

ER11 Collet Ultra High Precision 0.005mm 5u

Runs smmoth as silk, great value

ER11 COLLET ULTRA HIGH PRECISION 0.005MM 5U

Excellent product, great delivery time

I highly recommend these collets due to the high precision tolerance compared to other brands. I've purchased other ER11 collet brands from ebay and a couple of other sites due to being affordable, big mistake. Collets from the other brands (came in yellow boxes) had loose inner diameters when inserting bits in, as a result my cuts had uneven lines. I've since had no issues after using Adam's collets.

Another quality product at the right price from Adam's Bits. Shipping was fast, as usual. Very happy.

Great.

Fast delivery, extremely low run-out, perfect for my little 6040 machine

Great quality. Prompt service and fast Delivery. Thanks Adam!